One simple way of explaining how the most common apps are connected to Micrsosoft Teams. With Teams in the center of attentation, you can easily get relevant information from several other tools and apps.
This is by no means a comprehensive list, since the possible connections are in the 100s, but it will give you some of the most popular apps that should be used by everyone.
Apps connected to Teams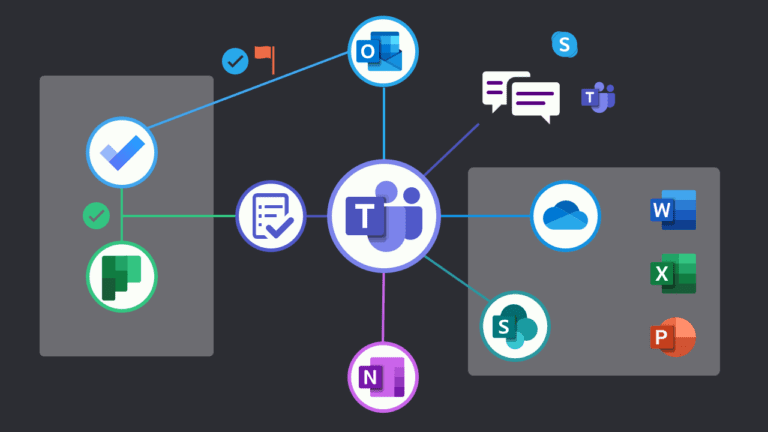 Teams

Has the chats and posts features, in addition it handles the video meetings.

Outlook

Teams uses the calendar from Outlook, it also changes your status to reflect your calendar. You can send mail to a channel as a post, and send a post as a mail.

Chat

You can chat with other Teams, Skype for Business and Skype users, internally and externally. Unless blocked by your organisation.
OneDrive

Files shared in chat are always in OneDrive, uploaded files in chat are stored to "Microsoft Teams Chat Files" folder in OneDrive.

SharePoint

Files in your Team are stored in SharePoint. Every Channel is a folder in the main document library.

OneNote

An OneNote is created for each team, you can collaborate in them. Your personal OneNote(s) are stored in OneDrive still.
Tasks

An App in Teams that combine ToDo and Planner.

To Do

Next version of Tasks in Outlook. It uses tasks in Outlook as well as Flagged mail. In addition it can get your tasks from all your Planners.

Planner

Tasks in your Teams/groups. See tasks per Planner or get all tasks you are assigned to from all your different planners.