In Part 1 we prepared a test device, now we need to prepare the tenant for enrolling devices. We will use Microsoft recommended settings to test this. But we will look at a custom set of rules later on.
Set up a test device to try out cloud management
Starting with endpoint.microsoft.com
Go to Troubleshooting + Support -> Guided scenarios (preview)
Set up a test device to try out cloud management -> Start
1. Introduction
Always remember to read the information, it is an important part of the learning process.
Click Next.
2. User
Click + Select a user and choose your account or the one you are testing
Set Default file format to "Office open XLM" *
* This is the standard file format used in Office Applications on the device. Office open XML is the .docx, .xlsx and .pptx filetype.
Click Next.
3. Device
Since this should be your first installation of this device you need to choose Option B – Manual device enrollment.
So here you just click Next.
4. Review and Deploy
Read this page and click "Configurations to be made" to see what the guide implements.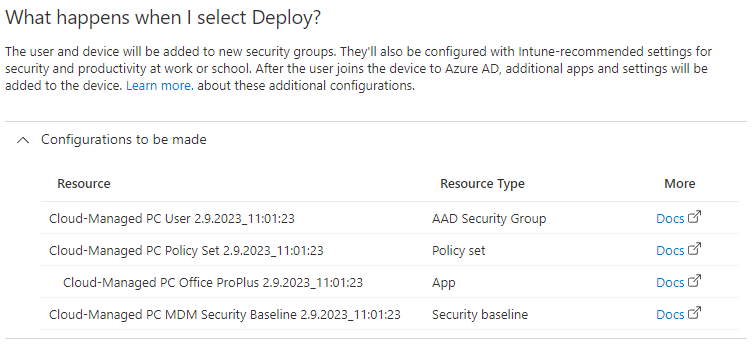 Note that nothing has changed in your tenant up to this point, you can always go back and change anything and if you don't press Deploy, nothing will happen.
Click Deploy
Success🎉