An office in the Clouds
What if I told you that you could build your own office space for your department, project or any groups of interest? This office can be only for you and your colleagues or you could invite other people from around the globe.
It's at no additional cost, it adheres to policies dictated by your organization and it is potentially accessible wherever you are!
Got your attention? Great!
A team is a digital office with features similar to most social medias you have used the past year. This office space can have up to 200 dedicated rooms and 30 rooms that require special access. These rooms are called Channels.
You can have dedicated meeting rooms for every meeting you have, no physical room required.
The icing on the cake? It's available on your PC, Mac and mobile device! I'm not sponsored, but I do love this product!
So get to the point, when to use what?
Well, the explaination above kind of sets the tone of when to use what. Look at each team as a digital office used for your team, big or small. Every channel is a room where you have your discussions. Chat is the conversations you have outside the collective space.
Now to put it into context
Let's take a project, any project. I'll be the project leader making a project proposal.
I'll start by creating a word document in OneDrive, in this case it's built on an awesome template from our template library in SharePoint. I need some feedback on it and start a group chat with 2 collegues and share the document with them. We collaborate realtime on the document, book a meeting in Teams to discuss the details of the plan.
When we finish I share the document with my manager for approval. Guess what, it got approved!
Now it's time to gather a group to collaborate on the projectplan, budget and more. I create a team and add my collegues as members and one external person as a guest. I save the Project plan as PDF in Files in the General-channel. An to make it easier to find I'll add a tab to the channel, choose PDF and link the document as a tab in the channel in the team.
As the project gets along we'll add more channels to represent the different workgroups, major discussion topics and structured conversations. Organically grown channels that are build out of neccessity are effectivly more used than preplanned that might not fit the group in the end.
We have a long way to go to finish the project, but now we have one place where we can collaborate, communicate and store our files for this project.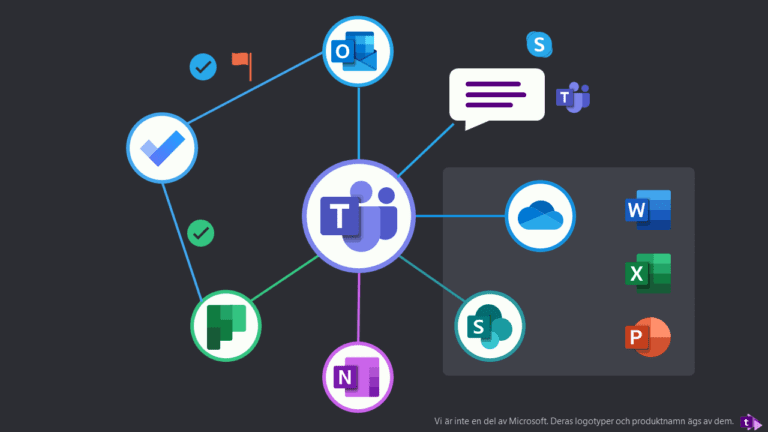 More features to help us
There are allmost unlimited features and functions to add, but no team of mine is complete without a OneNote to save meetings notes and general thoughts and ideas. As well as a Planner, also called Tasks, to have a shared project board.
If you need a gantt to handle the timelines, add Project Online (it's not really good for much else yet) and add SharePoint pages and News to communicate long term information. If you have a SharePoint Communication page as a project hub, why not connect this project to it using the Hub-sites feature?
I hope this gave you an idea of how to use it, if you need more examples, let me know! Good luck!
Definitions
"a number of persons associated together in work or activity" – Merriam-Webster
A team in teams is a digital office that makes this possible.
A room in a Team, core features are a place to communicate through posts and a file storarge (using SharePoint). This is where you add additional featurs as tabs.
A conversation between yourself and one or more other individuals. This is the dialogues you have outside the normal groups/teams.
Depending on the setup you can communicate with other users of Teams, Skype for Business and Skype, both internally and externally.