When it comes to accessing Microsoft services and products, you have a choice between using a Microsoft account or a business account. Both types of accounts have their own unique features and uses, and it is important to understand the differences between them to choose the right one for your needs.
In this article, we will go into more detail about the features and uses of each type of account, so you can make an informed decision about which one is right for you.
Microsoft Account, your personal access to Microsoft applications
A Microsoft account is a personal account that you can use to log into Microsoft services and products such as Outlook.com, Microsoft 365, and Xbox Live. You can also use this account to access Microsoft Learn where you can get courses and prepare for your Microsoft Certifications.
You can create a Microsoft account by signing up with an email address and password, or by using an existing email address from a third party like Google or Yahoo.
Microsoft 365 Work or school account, your access to Business resources
A business account, also known as a work or school account, is provided by your organization. You can access this account through an organization you belong to, such as by receiving an invitation from an administrator. The business account gives you access to services and tools that are specifically tailored for organizations, such as Microsoft Teams, OneDrive for Business, and Exchange Online.
You cannot create a business account without purchasing a license, except through offers like the Microsoft Developer Program.
The main difference between the accounts
Microsoft accounts are used for your private stuff. Although you can use this to be a guest in a business tenant and you can use the private version of Teams to chat with business accounts (that allow it). You will be better off if you separate the use and the data.
Business accounts are for work and are provided by an organization and your account will be part of their tenant. Business accounts also use a custom domain, even though it's possible to link a custom domain to a Microsoft account, most domains will business accounts.
Find out if you have registered your business and private accounts
Even though it's possible to register a business email as a "Microsoft account" please don't do it (until you understand why I say so). This is a problem I see once in a while, if you want to check a mail, go to office.com and click Sign In, then type your business email.
If you get the following message, they are linked: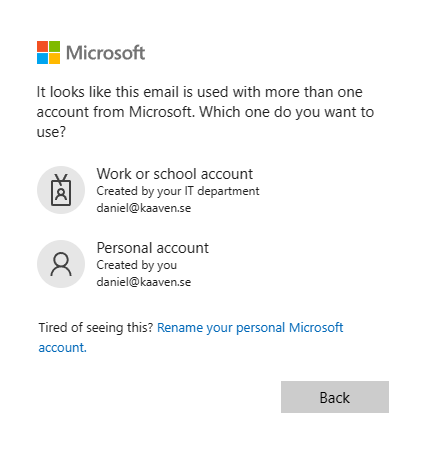 Taking a Microsoft Certification? Read this!
Always use your Microsoft account for Microsoft Certifications, you can link that account to a Microsoft Partner later if needed. Never use your business account, this will make it harder if you quit the company and you need to do a password reset or similar.