How is access to a team controlled? Is a public team for the whole world to see? Can we have people in just one channel, not the team? Here you can get answers to all (?) questions you have about team access.
This is an extension to Teams 101 – What is a team? and a part of my Teams 101 Series.
Who controls access?
Every team should have at least one owner, the creator of the team is an owner by default, but more members can be promoted to owner, this is limited to internal users. Guest users can't be set as owner of a team.
The owners can add and remove users in a team, in addition to change settings and limit posting in channels among other things.
Team access visualized
This illustration shows how access is handled depending of the type of team and channel. In this section we'll break up each part.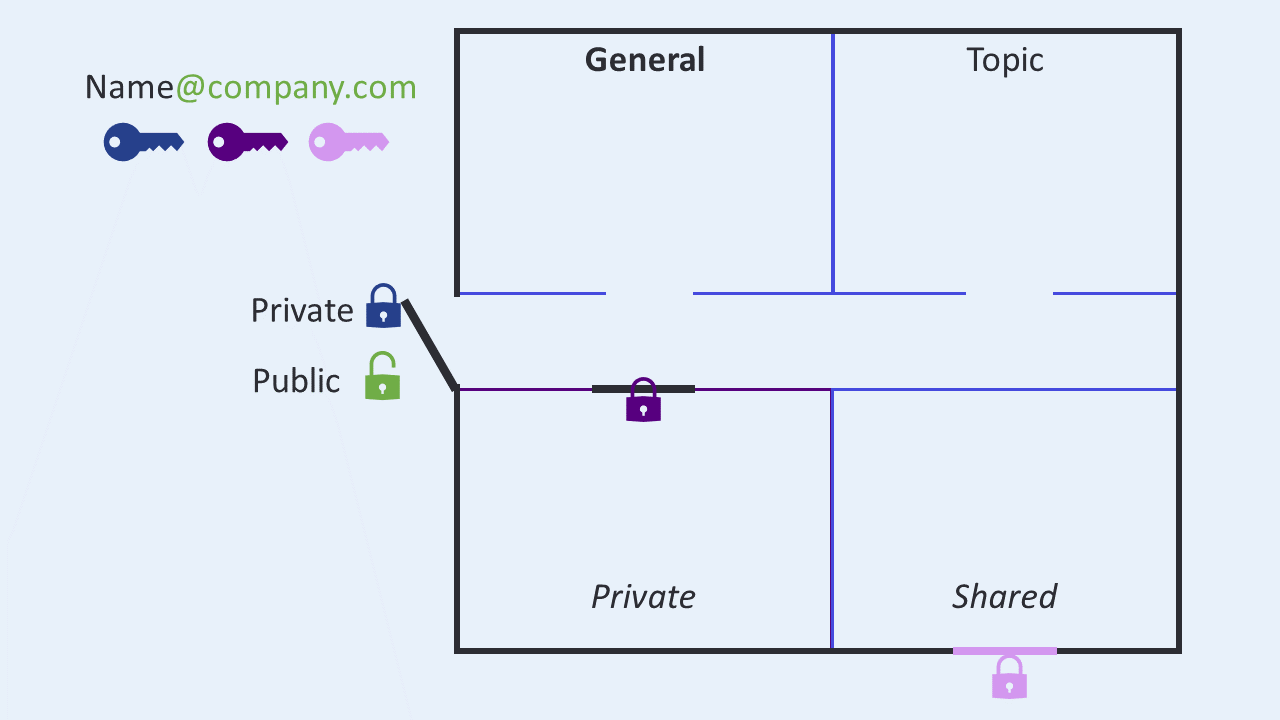 You mail adress is your key
When a team is created you can choose between public or private (+ org.), if your mail is part of the company, you'll have access to any public team in your company. This means you can join them without approval from any owner. In the illustration, the last part of your email is the access to the unlocked (green lock) teams.
If a team is private, the door is locked, and each user need to be invited to have access. This is symbolized by a blue key and lock. Unless limited by the company, you can also give this access to an external user, called Guest in teams.
Channel access, extra keys needed
When you have access to a team, you have access to all channels within that team, with two exceptions; Private and shared channels.
A private channel (Purple lock and key) is a channel that are restricted from the rest of the team. You still need access to the team to get access to a private channel. But you also need an extra invitation to the channel to access it.
Shared channel on the other hand can give access without accessing the team. It is a special kind of channel that can be added to more teams, and even to other companies using B2B. Read more at Collaborate with external participants in a shared channel (IT Admins) | Microsoft Learn.
Note! Limited access
You company can limit some of these options for you, or choose not to add them.
My 5 cents
Master teams and channels before you start using private or shared channels. They have their benefits, but also their challenges. When you understand them, you are ready to try them out. Good luck!